Cycle Tour Berlin nach Kulmbach
Planned tour: Option 3
Actions
Please wait - map data are loading
Cycle route metrics
Cumulative elevation gain in m
Cumulative elevation loss in m
Information about rights to the gps-track data

Rights owner

gabster030 & Andere

Rights characteristic / license

cc0: Public Domain no Rights reserved

Link to the description of the license

GPX file taken from

EuroVelo

GPX file uploaded

by gabster030 on 18 Feb 2018
Track points per km (avg)
Start/endpoint
Berlin, Berlin, DE (0 m NHN)
Kulmbach, Bayern, DE (303 m NHN)
Beds4Cyclists, worth visiting and infrastructure
Name and address
Latitude / Longitude
Route km
Dist. to route
Elevation AMSL
Advertisement by the accommodation establishment
Kastanienallee 65
DE-10119 Berlin-Mitte
52.534835 / 13.406116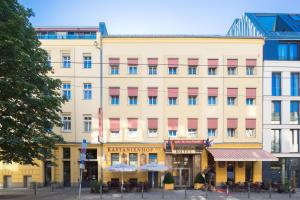 Featuring original works of art, rich breakfast buffets, and easy transport connections, this 3-star-Superior hotel in Berlin lies on the trendy Kastanienallee street, between the Mitte and Prenzlauer Berg districts.
Information about copyright

Rights owner

Booking.com™

Rights characteristic / license

© all rights reserved.

Image and text provided by
TV ▪ Radio ▪ Telephone ▪ Internet ▪ Shower/bathtub en-suite ▪ WC en-suite ▪ Hairdryer ▪ Mini-bar ▪ Non-smoker-room
Internet ▪ TV room ▪ Washing machine ▪ Tumble dryer ▪ Drying room
Restaurant ▪ Cafe/bistro ▪ Open-air restaurant/beer garden, etc. ▪ Bar ▪ Dinner for guests ▪ Breakfast
Accepted payment methods:
cash ▪ Electronic cash ▪ Eurocard MasterCard ▪ Visa ▪ American Express
stay for one night ▪ breakfast ▪ bicycle repair tools ▪ info bicycle repair shops ▪ possibility of drying ▪ lockable room (0 €)
Reception hours 00:00 - 24:00 ▪ earliest check-in 14:00 ▪ latest check-out 11:00
Museum/World heritage site
Berliner Museumsinsel mit Bode-Museum, links die Monbijoubrücke und im Hintergrund der Fernsehturm
Berliner Museumsinsel, Alte Nationalgalerie
Berliner Museumsinsel, Pergamonmuseum
Museum Island (German: Museumsinsel) is the name of the northern half of an island in the Spree
river in the central Mitte
district of Berlin, the site of the old city of Cölln
. It is so called for the complex of five internationally significant museums, all part of the Berlin State Museums
, that occupy the island's northern part:
In 1999, the museum complex was added to the UNESCO list of World Heritage Sites.
Information about copyright

Rights characteristic / license

by-sa: CREATIVE COMMONS Attribution-ShareAlike

Link to the description of the license

Input taken over from:

Wikipedia contributors, 'Museum Island', Wikipedia, The Free Encyclopedia, 13 September 2014, 09:35 UTC, <http://en.wikipedia.org/w/index.php?title=Museum_Island&oldid=625352615> [accessed 15 October 2014]

taken over / edited on

16 Oct 2014

taken over / edited by
Hotel without restaurant (garni)
DE-10119 Berlin-Prenzlauer Berg