Cycle Tour Berlin to Trento on EuroVelo 7
Planned tour
Please wait - map data are loading
Cycle route metrics
Cumulative elevation gain in m
Cumulative elevation loss in m
Information about rights to the gps-track data

Rights owner

bike maps

Rights characteristic / license

by-sa: CREATIVE COMMONS Attribution-ShareAlike

Link to the description of the license

GPX file taken from

bike maps

GPX file uploaded

by christym101 on 04 Jan 2016
Track points per km (avg)
Start/endpoint
Trento, Trentino-Alto Adige - Südtirol, IT (194 m NHN)
Beds4Cyclists, worth visiting and infrastructure
Name and address
Latitude / Longitude
Route km
Dist. to route
Elevation
DE-10557 Berlin-Tiergarten
DE-10557 Berlin-Tiergarten
Die Berlin Tourist Info liegt direkt in den Einkaufspassagen des neuen Hauptbahnhof an exponierter Lage direkt gegenüber von dem ServicePoint der Deutschen Bahn. Hier können Sie gleich nach Ihrer Ankunft in der Hauptstadt Hotelbuchungen (von über 350 Berliner Hotels, Pensionen und Gästehäusern), Informationen und Tickets erhalten.
Information about copyright

Rights characteristic / license

by-sa: CREATIVE COMMONS Attribution-ShareAlike

Link to the description of the license

taken over / edited on

12 Sep 2011 - 28 Aug 2012

taken over / edited by
Hotel without restaurant (garni)
Advertisement by the accommodation establishment
Kastanienallee 65
DE-10119 Berlin-Mitte
52.534835 / 13.406116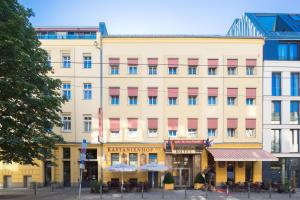 Featuring original works of art, rich breakfast buffets, and easy transport connections, this 3-star-Superior hotel in Berlin lies on the trendy Kastanienallee street, between the Mitte and Prenzlauer Berg districts.
Information about copyright

Rights owner

Booking.com™

Rights characteristic / license

© all rights reserved.

Image and text provided by
TV ▪ Radio ▪ Telephone ▪ Internet ▪ Shower/bathtub en-suite ▪ WC en-suite ▪ Hairdryer ▪ Mini-bar ▪ Non-smoker-room
Internet ▪ TV room ▪ Washing machine ▪ Tumble dryer ▪ Drying room
Restaurant ▪ Cafe/bistro ▪ Open-air restaurant/beer garden, etc. ▪ Bar ▪ Dinner for guests ▪ Breakfast
Accepted payment methods:
cash ▪ Electronic cash ▪ Eurocard MasterCard ▪ Visa ▪ American Express
stay for one night ▪ breakfast ▪ bicycle repair tools ▪ info bicycle repair shops ▪ possibility of drying ▪ lockable room (0 €)
Reception hours 00:00 - 24:00 ▪ earliest check-in 14:00 ▪ latest check-out 11:00
Hotel without restaurant (garni)